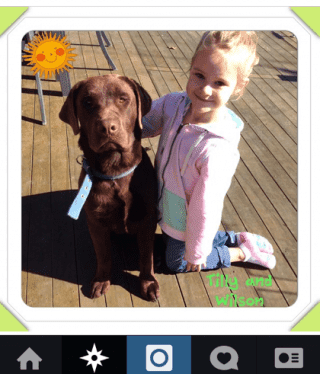 …… messages from our puppies and their owners
"Our Patonga Puppy is absolutely wonderful. He is everything we could of asked for in a family pet. We just love him to bits…."
---
"Lil, I can't even begin to tell you what a totally wonderful job you and your family have done raising those pups – watching Inka with him and watching how happy he was to see you both just shows what a great beginning he has had. I just hope that we can continue to do as good a job.
Good luck with saying goodbye to all the rest of those butter balls.
---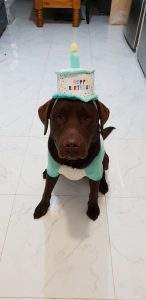 "Our big boy has turned two today.  We have had so much enjoyment with him, thank you for such a great dog."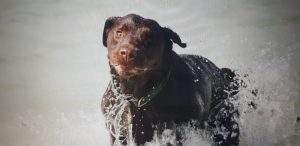 ---
Hi Lil
Just thought we'd give you an update on Milo. He's going really well and ​growing a LOT. Every morning we wake up and he looks like he's grown overnight! We have started puppy pre-school and as you can imagine, he is the best looking dog in class 🙂
As you can see he still loves his sleep and will sleep anywhere! We couldn't be happier with our new family member.
Hope you and your beautiful dogs are all well. Thanks again for all you did to raise such a beautiful pup before he came to our home.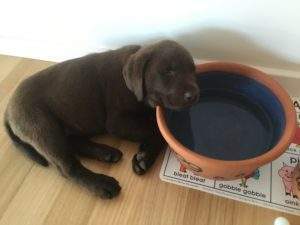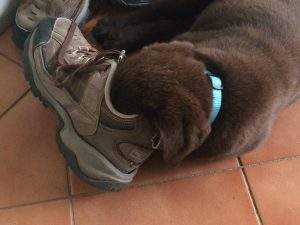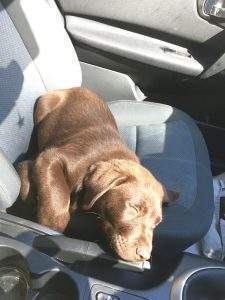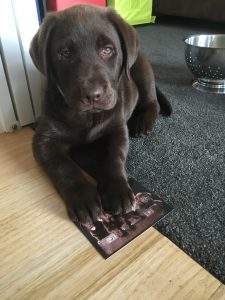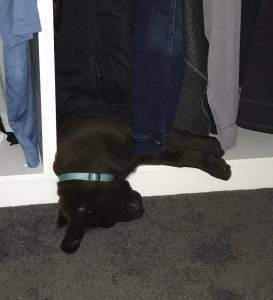 ---
Rupert's just over 7 months old now and is certainly a big part of our family now. Thank you Lil for everything you did to get him over here to Adelaide.
---

Hi Lil!

I hope you are well!

I thought i would get in touch and say hello! Freddo is 12 months old today! He is the best thing that ever happened to us. He is the most beautiful, loyal and sometimes well behaved dog. His likes include sleeping on the couch with us at night, swimming, food, food, more food and socks.. the dirtier the better haha. We take him out to the dog park often and he gets to come on adventures out at the dam and comes to Sydney with us to visit family.

Thank you for bringing such a wonderful family member into our lives. 

P.s we both badly want a black lab now but we are waiting until we own our own home! Haha

Take care!

---

As you can see Archie has grown a lot and very much part of his new family. He is such a good boy (most of the time) and just so good natured and loving, enjoying tummy rubs and cuddles whenever he can get them.

xx from Archie
---
Hi Lil, hope u r well. our little Peggy la la just moved into her big girl collar, pink is def her colour!! We go walking morning and night and the other night a man was walking behind us ( my 4 year old and I) so Peggy gave him a back off bark, I was so proud of her, I think it's the first time I've ever heard her bark. We love our sweet girl.
---

Hi Lil

I have attached a couple pictures of Big Max that we took yesterday.

He's still doing really well and gets lots of attention when he goes out for walks!  He's also incredibly easy to train.  He even worked out (by himself) how to open one of our back sliding doors to let himself in! 🙂
---

Woof! Hi Lil!

It's me, Louie! It's been a week now since I travelled to Melbourne to be with my new owners, Kim and Ben. I love my new home. I was a bit scared the first two nights but since then, I have slept soundly throughout the night in my new kennel. I love playing with my puppy dog toy, chasing the tennis ball and learning new tricks. I know how to 'sit' and 'come' and I am learning how to 'drop' and 'stay.' Chicken necks are my favourite but mummy and daddy says that I chew them too quickly! When it's hot, I like to splash water out of my water bowl onto my belly. Mummy and daddy bought me a present today – my very own clam shell, which I like to splash around in. All the games I play make me quite tired and my favourite place to have a nap is on daddy's gum boots. Mummy and daddy say that I am very chilled out and love my soft, shiny coat.

Love Louie xx

   

---
Hi Lil, do you think Pippi is guilty?  She is the most beautiful puppy and is loved by everyone.  Hard to get cross at that face!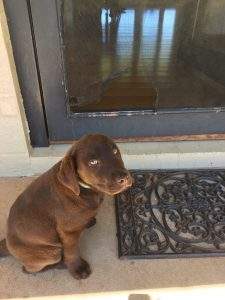 ---

Hi Lil!

Hope that you are well, and are seeing the photos that I've tagged you in of Bobbie on instagram!

Just thought I'd drop you a quick update on Bobbie anyway (and a lot more photos too!).

He is such a big boy already at 7.5 months, with so much energy and puppy charm. He has given us lots of laughs in our home, and some very funny stories to share of his cheeky nature. We currently are at a total of 4 destroyed pairs of shoes he has snuck out of the house without our noticing – his favourite are leather, 1 poor arm of a leather lounge when I was hanging out the washing outside, our front timber steps he has enjoyed chewing on, as well as countless destroyed shrubs, , and one poor camellia tree).

He is a very cuddly boy and loves to climb up on the lounge to have a cuddle at night and during the day when we are home. He doesn't like to lay on the couch though, he prefers the human cushion!

He loves his fur aunty Ellie (she is a lab x and is 8 years old, included in some pictures below). She has taught him how to fetch his ball and 'drop it', swim in the creeks and river near our house, and to play gently as he can sometimes be a bit too rough forgetting that she is a bit older!

We've also taught him to 'lay down' and 'stay' on his mat, 'come',  'go there' (when we point), walk 'together', and also to high-five/shake hands. He understands all these commands not only in english but also in greek, which we speak in our home. We've found it really helps us to keep him paying attention to us when we are around other dogs or people.

He goes to the vet next Friday for a check up and to get desexed but all other checks have been great.

Thanks very much for the little (but now big) blessing that is Bobbie for our family. We can't picture our home without him! If only I could convince my partner to think about a friend for Bobbie..!

All the best

   

---

We've had Lola 6 weeks. She's the best, great with other dogs, beautiful temperament, obedient, basically completely toilet trained, and loves the gymnastics and equestrian 😂.

Other than that, she's 10.5kg and loves her food, chewing everything and anything and has a very gummy smile at the moment x 💕

---

"Hi mum,

As you can see I am doing well. I am on my way to becoming a model dog citizen (once i stop barking in people's ears, biting the backs of their knees when I am bored and trying to eat the cats I live with (and all their food)

It is nice here. I can get up on the kitchen bench from the couch and help myself to the peanut butter. I can get the lids off now too!

I can sit and stay and drop and roll and shake paws. Yesterday I went to the beach for the first time and I jumped right in as if I was born to be in the ocean. Then I went home and had my first bath.

I still look for Inka in every girl I meet – they aren't her, but they are pretty nice anyway. I have several great dog friends that I play with every day and I am getting to know all the dogs in the park – the ones that will play and the ones that won't!

I hope you are having a nice mother's day.
lots of love
Harvey Crinkle Cady"

---

"They are just so beautiful!
Thanks for sending photos – it is like being there!"

---

He is stunning, thank you.

---

He is so beautiful and calm!  We are totally in love with him.xxx

---

Cinnamon has settled in well and slept beautifully last night.  She has two especially dedicated carers!

---

Rosie just wanted to let you know that she is very relaxed in her new home and has been perfect to date.  Xxx

---

He is divine Lil!  Love at first site for sure.  The girls are infatuated with him.

---

…we are all a happy family and a complete one because of you and my beautiful daughter ??and hugs and kisses from Cabrie.

---

I just wanted to tell you how much we love Reggie – he is trying very hard to be a good boy and sleep all night….some nights are better than others…

He is going to work with Mark during the day and loves being a landscaping assistant – digging is a speciality

He is the only 'noisy' player in his puppy school group – he herds them all – obviously he has peered over the fence to see how the working dogs do it…

He has forever changed our lives and we love him to bits

---

Hi Lil

I just thought I would share some pics of Bruno to show you just how gorgeous he is and give you an indication of how big he got.

He has so much personality and is spoilt rotten ?.

---

Just a few pics of Sasha she turned 1 yesterday. She's going well and we are all having lots of fun with her even if she does chew everything she can get her paws on.

---

Canela is doing great, we joined the ACT Companion Dog Club and started Obedience Training, which she absolutely loves. She is a very good girl and we are enjoying so much having her in our family.

    

---

………….. Lil he has such a great nature, never aggressive, always wants to play with other dogs he never barks which is a big bonus.

  

He has a golden retriever female buddy down the street, they would play all day if you let them.