Guide to understanding DNA testing and offspring outcomes.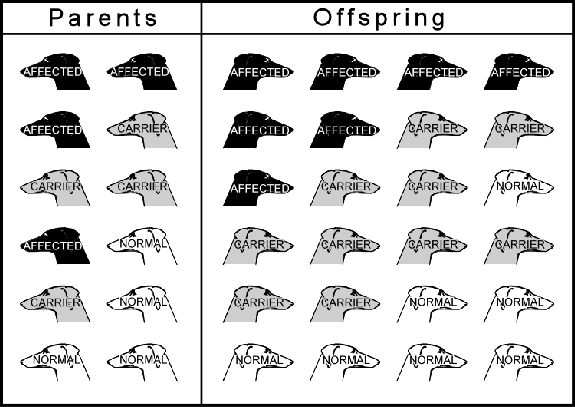 Your dogs age compared to a human.
Apparetnly a 'dog year' isn't equivalent to 7 human years.
Since smaller breeds tend to live longer than larger breeds, it's important to calculate your dog's age according to the right category: small (9.5kgs or less), medium (9.6kgs-22kgs), large(23kgs-40kgs), or giant (over 41kgs).
Age Of Dog

(Human Years)

Small Breed:

Age In Dog Years

Medium Breed:

Age In Dog Years

Large Breed:

Age In Dog Years

Giant Breed:

Age In Dog Years

1
15
15
14
14
2
23
24
22
20
3
28
29
29
28
4
32
34
34
35
5
36
37
40
42
6
40
42
45
49
7
44
47
50
56
8
48
51
55
64
9
52
56
61
71
10
56
60
66
78
11
60
65
72
86
12
64
69
77
93
13
68
74
82
101
14
72
78
88
108
15
76
83
93
115
16
80
87
99
123